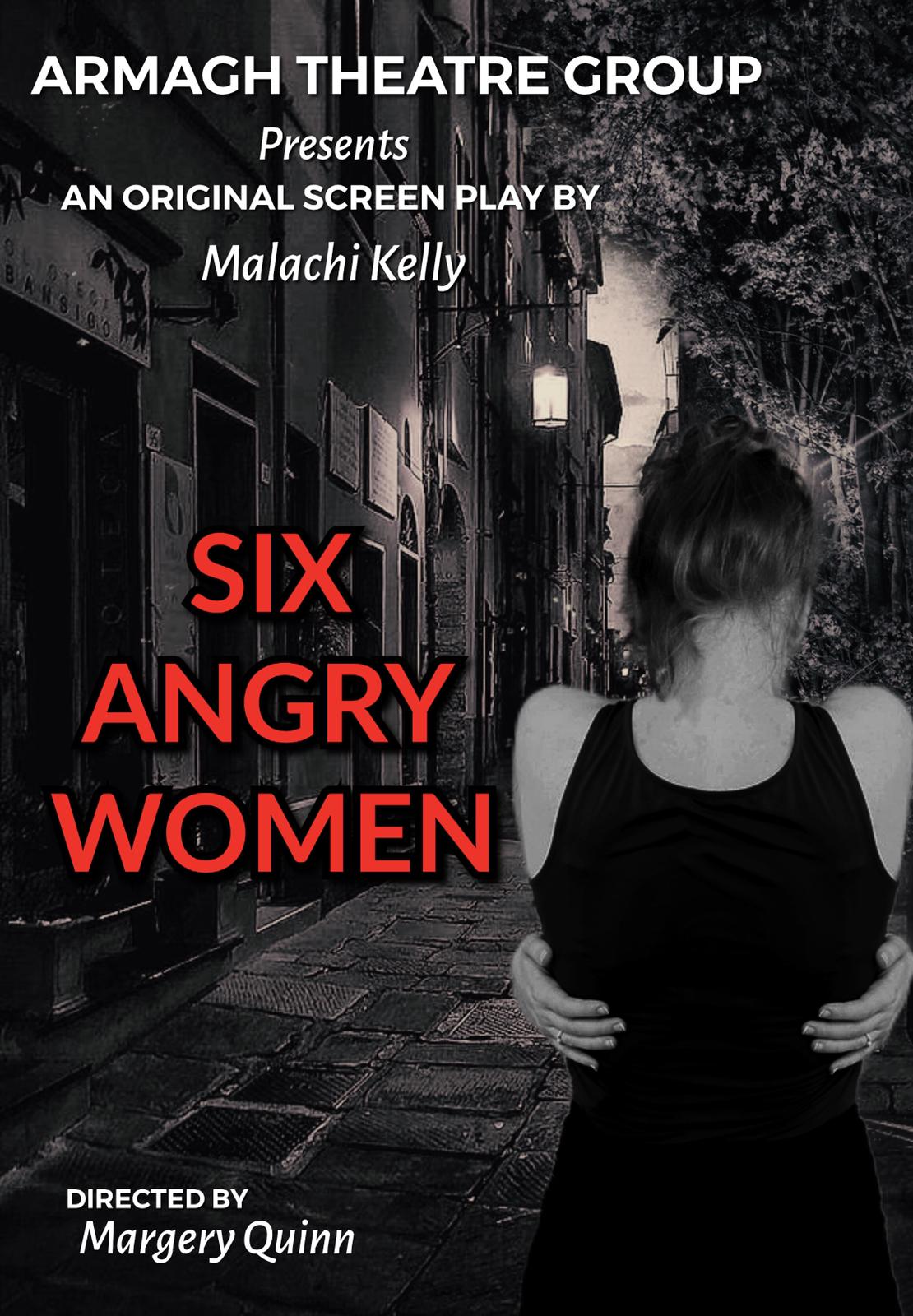 SIX ANGRY WOMEN
Armagh Theatre Group are delighted to bring you another original live Zoom production, on the 6th & 7th & 8th May (yes - less than 3 weeks away), and tickets are on sale NOW!
Written by Malachi Kelly, Six Angry Women is a departure from our earlier Zoom offerings and addresses the thorny issues of covid misinformation, race, religious differences and immigration in the context of battling the pandemic on this small island. With a nod to the famous, 12 Angry Men, the Six Angry Women of the title confront their own prejudices as they, the jury, try and decide the fate of a young illegal immigrant girl being prosecuted for breaking covid regulations. In so doing they inadvertently reveal their own shortcomings and perhaps realise that maybe it is not just the accused who is on trial.
Yet again Margery Quinn has taken on the considerable challenge of producer and has dedicated hours of her solitary time working with this talented cast, a mixture of "old Zoom hands" (Bridie Heaney, Wilma Campbell, Marie Claire Guy, Hilary Good) and "newbies" (Una Hendron , Claudia Clendinning & Gillian Faulkner) to produce a thought provoking and humorous piece of theatre. Find out by joining one of our live Zoom performances……
We are charging only £10 per "screen" (your whole family can watch).
If you wish to book a place for Thursday 6th May go to
https://tinyurl.com/6aw6thmay
If you wish to book a place for Friday 7th May go to
https://tinyurl.com/6aw7thmay
If you wish to book a place for Saturday 8th May go to
https://tinyurl.com/6aw8thmay
There are a few important things which you need to know.
We are presenting three live performances –Thursday 6th, Friday 7th and Saturday 8th May at 8pm, which can only be viewed on Zoom…so it is essential you have the zoom app on your computer/tablet (watching is best on a laptop or desktop computer. An ipad/tablet will work however a phone is not recommended.)
We will only have 80 "screen" places available each night and you need to register by clicking on the appropriate link above to secure your "screen" place. Importantly – please register and pay using a laptop or desktop computer. Using a tablet/ipad/mobile phone will work but you will either need to already have a PayPal account or else open one.
Finally, please spread the word (forward this email) to your friends and family.