'Variety is the spice of life'. This phrase comes from William Cowper's poem, "The Task" (1785): "Variety is the very spice of life, That gives it all its flavor."
Our August Open Mic had buckets of variety from ages10 to 70's. From musicians to poets,singers,storytellers and an award winning written word artist. A prize giving raffle won by the ticket drawer (fix !) +bring your own bottle. All this amounted to 2hrs of live entertainment for a £5....now where else would you get it?
We had several newcomers performing and first off was Adrian Kissane with great renditions of folk/blues numbers 'Fish swim birds fly' & 'Must I hesitate'. Leigha Duggan,age 10, was next to sing Counting Stars (OneRepublic) and her friend Aoife Hughes(11) gave us appropriately 'Little Girls' from the musical Annie: both wonderful performers who we are sure will be hearing about. Matthew Toner's poem 'Who are we' was delivered with maturity and timing, another first for Matthew.
It was good to seeTheo Stinson from Richhill back with his rich baritone and great blues guitar playing. Mark Brownlee has developed into a fine poet and wordsmith and his contributions are eagerly awaited each month. What can I say about Dymphna Ferran that has not been said....Nothing! Brilliant D' as always.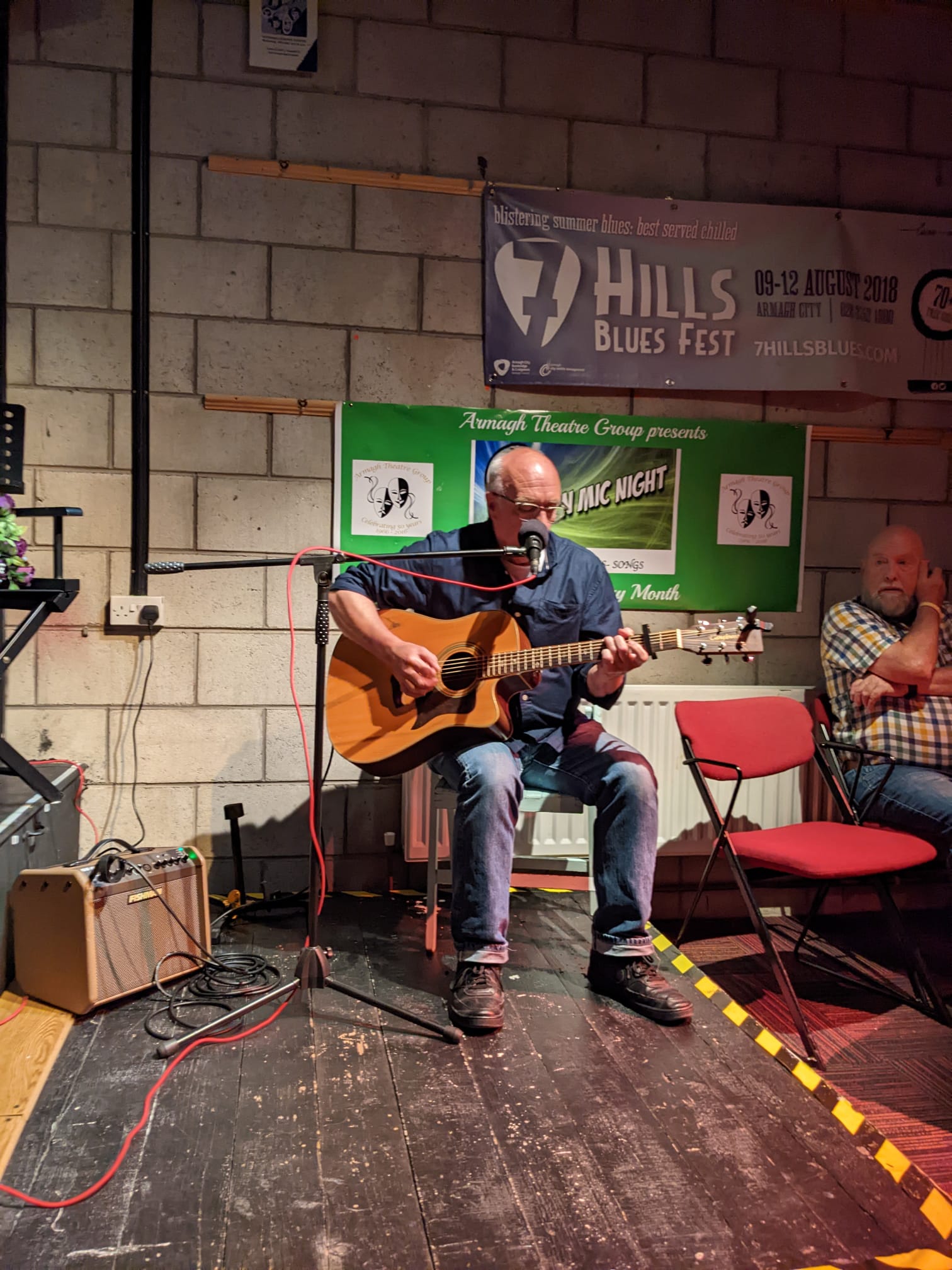 Adrian Kissane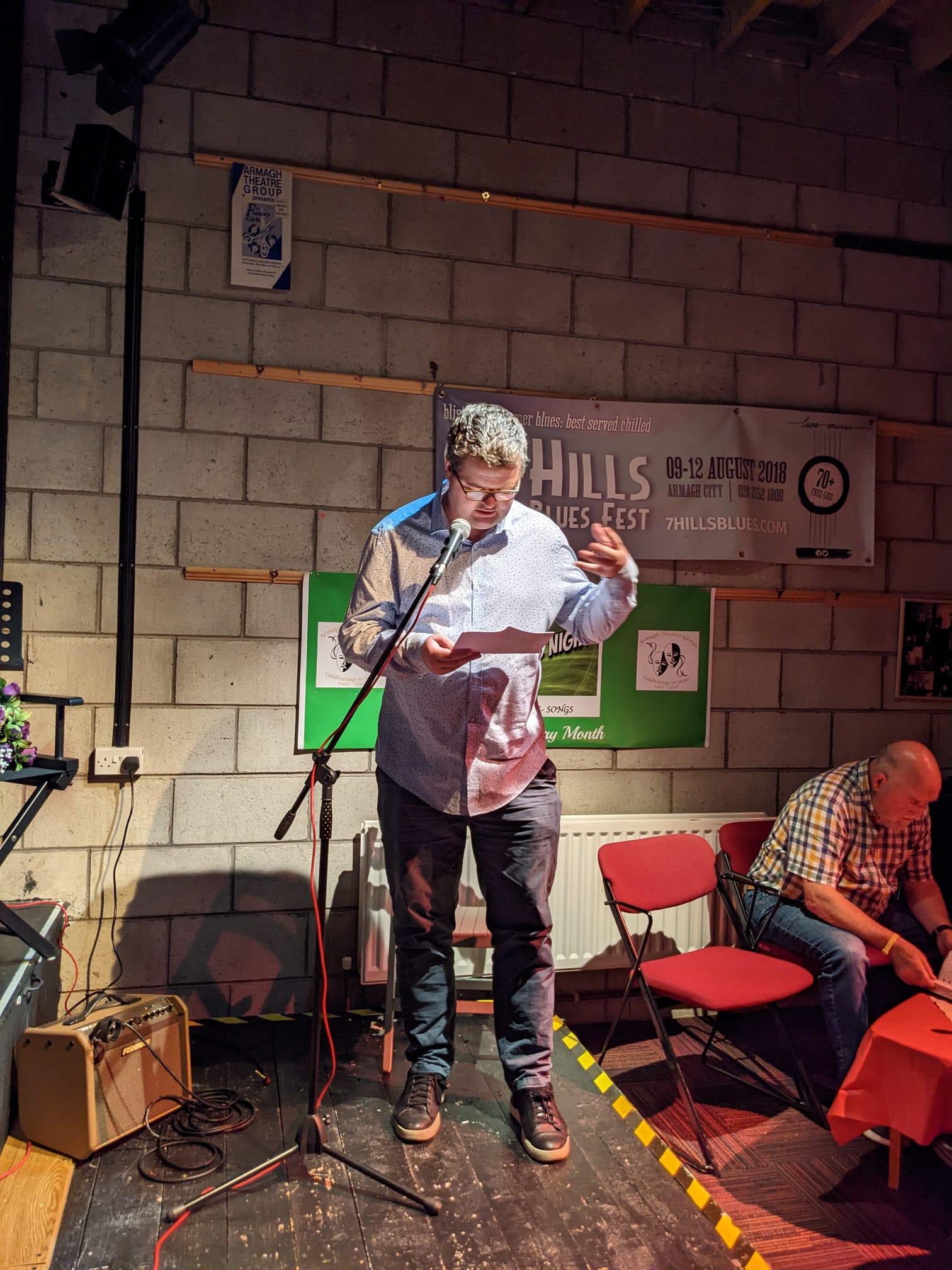 Mark Brownlee
The break was next and the draw for an authentic directors chair originally from a Leonardo D'Caprio set. Won by Aoife Hughes after she picked out her own ticket! Other winners on the night Matthew Toner and Theo Stinson. Thank you all for joining in.
Second half started with a poem 'I Iike you' from Malachi then Harry Perrin, now a firm favourite with Abbey Lane audiences sang Ned Sherrin's 'All these things' and BonJovi's 'Hold on to what youve go'.
Queen of the written word and multi award winning star Cathy Carson once again mesmerised us with another top class piece of writing. Always a privillage to have her visit Cathy's star just keeps rising. Another newcomer Bridie Donaghy sang 'Summertime' accompanied by Peter Kelly who also gave us 'Margaritaville' and a Bob Dylan classic.
Malachi read his story 'The Split' a family story of a relation missing Titanic's only voyage. Frances Lavery finished the night with Olivia Newton John's 'Let me be there' in memory of her recent passing.
And on a more personal note for Open Mic we dedicated the evening to the memory of Michael O'Callaghan, Baltarran Armagh who prior to lockdowns often sang at our nights ;She's my girl she's my world' Michael passed away during the week but his memory will live on in Abbey Lane.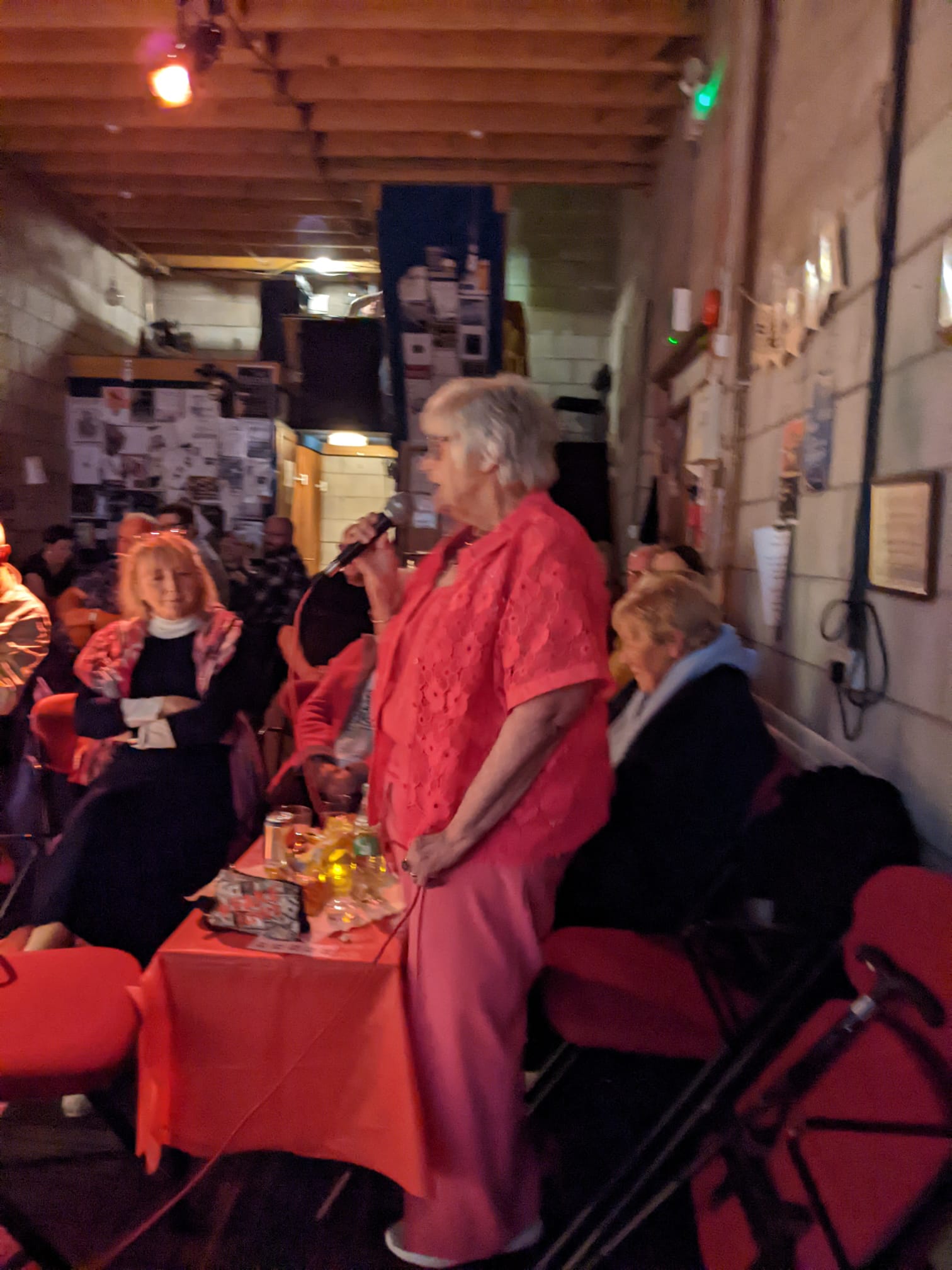 Dymphna Ferran with yarns aplenty.
Cathy Carson ; Saboteur award winner for Best Spoken Word Show 2022 . Thanks must also go to all who helped set up and on the night.
To Byddi, Sandra Tim and Eimear a very much deserved slap on the back (metaphorically speaking). Next OMN 30TH Sept...see you there!