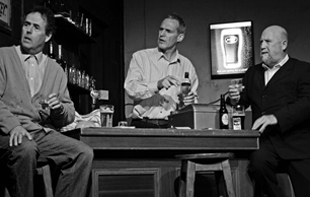 Tim "Drinks on the house for everyone" as Charlie Knipe (Barman) and Peter Kelly salute 'a Great man' (and so say all of us)
ARMAGH THEATRE GROUP QUESTIONNAIRE 2020
NAME; Tim Hanna
JOB/ CAREER; Semi Retired Valuer
ATG MEMBER since; 1987

WHY DID YOU JOIN ; Didn't "join". Was press ganged by James Lamb (along with other innocents, Wilma Campbell & Charlie Knipe) under the pretext of a Sunday afternoon cricket match. A lot of bottles of good plonk later, Mr Lamb went in for "the Kill" and successfully recruited us – a technique which sounds pretty "dodgy" by today's standards!
1st PRODUCTION; The Way To Keep Him – a Victorian Melodrama performed in The Band Hall on the Mall. I think I was a vicar. It was pretty manic but obviously addictive.
1st PRODUCER/DIRECTOR; James Lamb who was always calm and encouraging!
FAVOURITE THEATRE to PERFORM/ VISIT No favourite but prefer modern and small.
FAVOURITE PLAY and PART; Blackpool & Parrish (one of James Lamb's Canadian discoveries). I was Page the butler in the weird "Club". Also liked Lone Star with Malachi Kelly & Felim Rafferty which was twinned with Laundry & Bourbon – really funny and good fun to be in when you saw and heard the response from the audience. I guess that's key – if the audience enjoys what they are seeing then that makes it worth while.
ACHIVEMENTS on 'STAGE'; No particular achievements. Just enjoy the whole process.
LIKES/DISLIKES
Chocolates or Cakes; Neither any more (aren't I good)
Meat or Veg; Both – boring.
Fruit or fry; Strawberries but not fried.
Tipple or Dry; Now and again.
ENTERTAIN or be ENTERTAINED; I love to be entertained but will leave/switch off if it's dire. I also like to entertain, as long as the audience is enjoying what they are seeing/hearing. – which is not always.
EMBARRISING STAGE MOMENTS; Plenty of cockups but who hasn't.
I think scariest back stage moment was in my second production, recruited by James Lamb for a wee part in the almost all girl "Factory Girls". I did not know what a Festival Play was but before I knew it we were heading for the Ulster Finals in the Opera House (no thanks to me I would add). Terrifying prospect. I remember looking out the dressing room window onto Great Victoria Street 15 minutes until curtain up and preying for either a bomb or at the very least a damn good bomb scare. The odds of either in 1988 were fairly good but alas not to be. I survived the ordeal on stage but was more wary of Mr Lamb's offers of a small wee part in future.
Also, on a par in the "terror stakes" – when the prompt (can't quite remember her name) went AWOL during the first Act of Pentecost in a Drama Festival in darkest Monaghan or Cavan. It's amazing how 15 seconds wracking your brain for the next line whilst preying for a line from the prompt (who'd STILL gone AWOL) whilst trying to appear calm and in control to the audience and Adjudicator, can feel like TEN minutes!
FAVOURITE AUTHOR /PLAYWRIGHT; Still like Dickens. Don't read/see enough plays.
FAVOURITE BEDTIME READ; Whatever I am reading during the day. I have no problem carrying it upstairs at night as long as it's not too heavy.
FAVOURITE MUSIC CHOICE; Still in a 1960's "bubble" but also like Nick Cave, Keith Jarrett. Usually something depressing/maudlin will do.
BOOK/PLAY/FILM recommendations; I love books, particularly modern American fiction – Donna Tart/John Updike. Resisted joining Book Club for years ( "I'm not going to read books someone else tells me to read") Gave in 2 years ago and have been proved a prick – recent good ones I would never have read – Golden Hill by Francis Spufford, The Underground Railroad by Colson Whitehead….oh and my first ever Sci-fi, Rejuvination by Byddi Lee!!!
Don't watch enough plays to recommend anything but the National Theatre Live screenings are generally good (The Lehman Trilogy was fantastic) plus they won't need "social distancing" at Craigavon Omniplex when they re-open as only about 8 people turn up so you get a row to yourself – safe or what?
Films are on holiday at the moment and my attempts to have a Japanese film at ATG Film Club having been rebuffed umpteen times means I'm recommending a telly show instead – Call My Agent on Netflix – set in Paris – subtitles – funny and light….well, I liked it.
BEST HOLIDAY DESTINATION; Anywhere that leaves you with great memories.
YOUR PARTY PIECE; Just a slice of pizza I'm afraid. Best Party Piece's observed at ATG over the years – Patricia Savage's versions of Victoria Wood songs. Shame she emigrated……to The Cooleys!
MANTRE- RULES OF LIFE; Nothing special – Maybe try and be more tolerant, which is harder the older you get, even when someone else's actions/behaviour drives you up the wall!
EXERCISE CHOICE; Obviously limited by body falling to bits, so, as long as I can walk that will do.
FAVOURITE FOOD/RESTAURANT; Not a foodie. Eat to keep alive.
HOPES for ATG by 2026 – Just the obvious ones – recruit some MEN and some more YOUNG ONES to keep the thing going. Not much point building these new toilets if there ain't anyone to sit on them.