ARMAGH THEATRE GROUP 2020 QUESTIONNAIRE : advice before you start reading Kevin's bio boil the kettle, get comfy and enjoy.
NAME: Kevin McEneaney
JOB/CARREER
Second Level Teacher. I taught in St. Macartan's College, Monaghan, my old Alma Mater for 39 years. I taught English, sometimes Irish and manners!
ATG MEMBER SINCE;
c.1985
Why DID YOU JOIN?
I had moved from Monaghan in 1984 and after being deeply involved as Chairperson of Monaghan Dramatic Society, I was delighted if a little apprehensive, when Margery Quinn asked me to get involved. As it turned out ATG became a very important part of my life in Armagh. Thank you Margery. Imagine! It took me 35 years to say thanks.
1st PRODUCTION:
My first venture on stage, as an adult, was with Monaghan Dramatic Society and the play was "The Honey Spike" by Bryan McMahon. It was easy to get a part in that play as there seemed to be a cast of hundreds. I was a really "brilliant" B Special!! That play taught me the power of Drama. Some of the audience were inconsolable. We had to bring the expectant mother, who had "died" offstage in childbirth, into the auditorium before we could convince several of those weeping that she had not really died.
1st PRODUCER/DIRECTIOR:
As a teacher of English I had tremendous freedom to involve my students in Drama both in class and on stage. One play I really enjoyed directing was "Us and Them", a small one act by David Compton, where all thirty pupils in First or Second Year could get involved and did they not enjoy it! especially the knocking down of the dividing wall at the end. I'm still not convinced that "Good fences make good neighbours" or that "Good neighbours make good fences"!
I was committed to promoting drama in a footballing orientated College and with others collaborated in producing many plays like "Philadelphia here I come", O'Casey's Trilogy, "Macbeth" and many more.
In Monaghan I directed "The Patrick Pearse Motel" by Hugh Leonard.
With ATG I have directed or produced "Two", "Slices of Life" and of course "Our Lady of Sligo" by Sebastian Barry . When I met Sebastian at the Dalkey Book Festival I told him I was contemplating directing this particular play. He asked me if I had a Mai. When I told him I had someone with an almost infinite capacity for and dedication to learn lines and someone who could cry on stage he wished me well. Stand up Bridie Heaney!
Kevin and Emily featuring in "Slices of Life"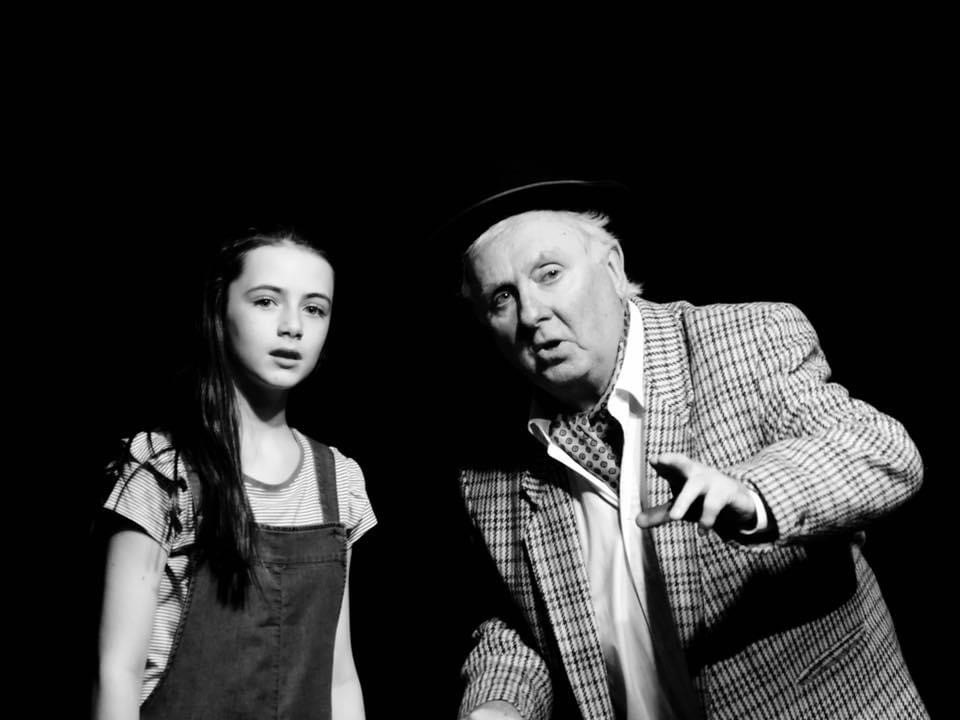 FAVOURITE THEATRES:
I have been to plays in New York, London, Dublin. Belfast, Cork etc., but none of them with their revolving stages and state of the art lighting and sound systems could hold a candle to Abbey Lane Theatre. Location, location, location and atmosphere.
FAVOURITE PART :
I really enjoyed my part in "The White Headed Boy" directed by Malcolm Dawson even if I opened Act 2, walked on and forgot my words only to be rescued by Hilary Good.
"44 Sycamore" with the barking dogs and being shoved halfway out the window to be "bitten" by the canines will stay in my mind.
Filming "All's Well that Ends Well" (not the Shakespearean version) written and directed by Conor Toner and found on You Tube was a different dramatic experience which I enjoyed.
However playing the 17 year old boy when I was 34 in "Da" by Hugh Leonard in a little purpose-built theatre in The Hillgrove Hotel, Monaghan, gave me a real feel for drama and was probably my favourite part. Maybe it suited my mental age!
BIGGEST ACHIVEMENT ON STAGE:
In 1972 I played the young lover in Brian Friel's play "Lovers" in Monaghan and in 2009 I played the elderly lover in the same play in Armagh. Brian Friel told me that he hadn't met anyone who had played both parts in his play. I loved that play.
MOST EMBARRASSING STAGE MOMENTSt:
That's easy to remember. May 2000 "The Risen People" directed by Margery. I felt good in the part of the Priest, counterpoint to Big Jim Larkin, socialist and Trade Union Leader. Thursday night went well, Friday night went well. Saturday morning I had no voice, I couldn't speak. This was communicated to Margery and Roisín White nursed me with various concoctions all day. Saturday night in a packed Market Place I joined the cast. Going well but then the counterpoint scene arrived; Larkin on one box, myself all dressed in collar and soutane surrounded by my followers on another -----------
- nothing, no voice, silence. I don't know why but I turned my back to the audience, muttered "London" "Liverpool" etc., and frantically gesticulated. Perspiring desperately I summoned up all the strength I could muster, turned back to the audience and somehow, somehow, the words came. Embarrassing or what?! As far as I know "The Risen People" was the first amateur production in the Market Place so I think I can safely claim the dubious distinction of being the first amateur to "dry" on that stage.
LIKES/DISLIKES:
SAVOURY or SWEET
As number nine in a family of eleven children there was very little scope for choice. Eat what was on your plate or starve. I can eat almost anything. I profess to be a savoury person but please do not let me near an open box of chocolates because they will not last too long.
ENTERTAIN OR BE ENTERTAINED:
I seem to be a poor audience person. I find it difficult to sit for a long period. I much prefer to entertain and I have to admit audiences are very very tolerant at times.
FAVOURITE AUTHOR or PLAYWRIGHT;
My favourite playwright has to be Brian Friel. I really love his work but didn't like Meryl Streep as Kate Mundy in the film"Dancing at Lughnasa". I thought it was a bridge too far.
FAVOURITE MUSIC:
I love most music Folk, Traditional and Light classical in particular. Leonard Cohen, Roy Orbison and Fats Domino are my favourites. I really enjoy nearly all musicals from "Oklahoma", "Sound of Music", "My Fair Lady", "Les Miserables","The Student Prince" etc. - am I a softie? I still can't fathom Rap. In particular I love to sing and join in with our own musicians like Peter Kelly, Eoin Ó Ceallaigh and John McDonald.
BEST HOLIDAY DESTINATION; (S)
Cruising down the Mekong Delta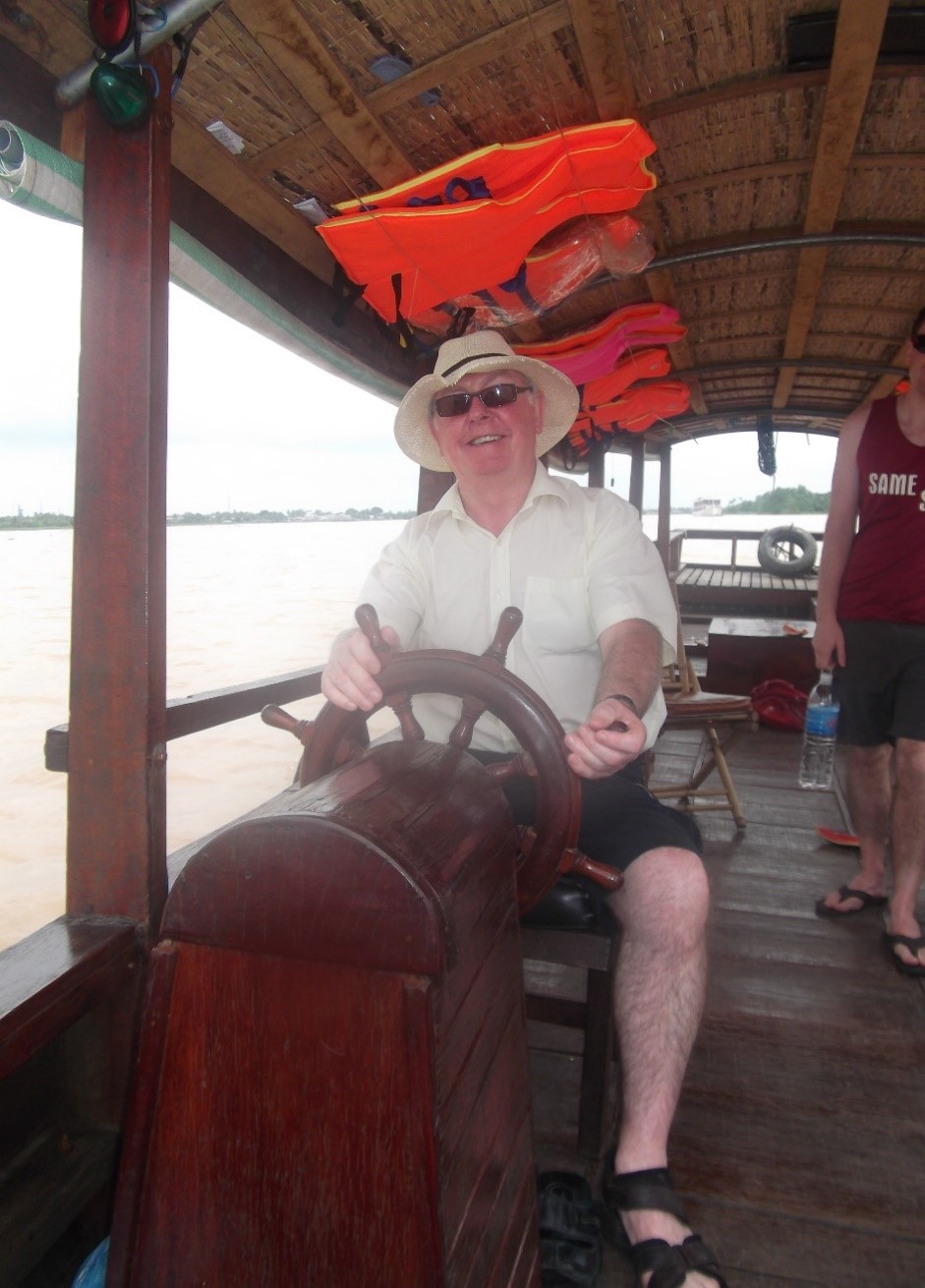 No, not the United States, Mexico, Canada, Europe, Tanzania or Ethiopia, all of which were fantastic, but Vietnam. I have to admit that I have only a limited capacity for lying on a beach. I'm more into experiences and my trip from north to south of Vietnam with my daughter ticked all the boxes.
Practically a local in Hanoi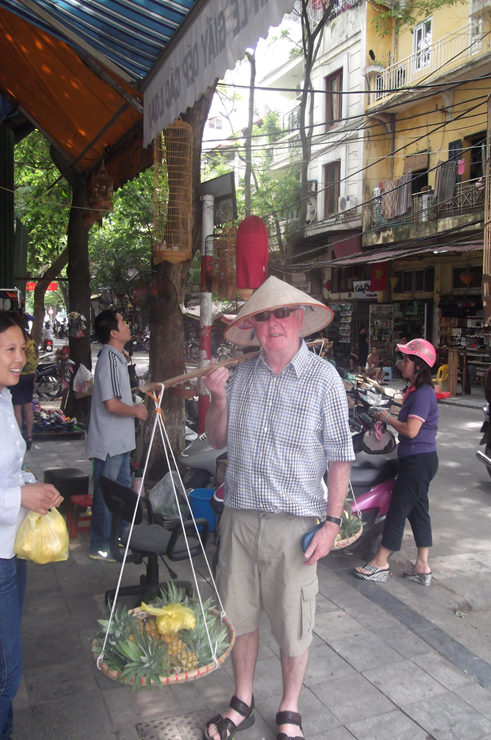 YOUR PARTY PIECE:
I practise the ukulele and the guitar at home and I sound amazing! Somehow when I perform in public it never seems up to scratch.
MANTRA- RULES OF LIFE:
Stop looking over your shoulder at what others have or what others are doing. Get on with living your life but not at the expense of others.
PLAY/ FILM RECOMMENDATION:
"Tarry Flynn" performed in the Gaiety in Dublin was spectacular as was "The White Headed Boy" starring Mikel Murfi who played about five different parts. We all enjoyed the same actor performing in The Market Place. Who could forget him in his own play "The Man in the Woman's Shoes"?
One of the best films I ever saw was the 1964 film "Becket" starring Richard Burton and Peter O'Toole. I also enjoyed "The King's Speech" and "Bohemian Rhapsody".
EXERCISE CHOICE:
I used to enjoy golf in good weather but alas no more. Now I content myself with gardening. I hate walking along the road because of the litter on the roads and in the hedges. I do enjoy walking the beach even in inclement weather.
A bit like Yeats who suggested that as we grow older we should exercise the mind and soul a bit more; We are
"A tattered coat upon a stick, unless
Soul clap its hands and sing"
In an attempt to exercise the mind I have taken up Bridge. I am still in the early stages, the very early stages of learning Bridge. I may be mathematically inept but I don't intend to let this challenge beat me.
FAVOUTITE FOOD:
All food. And, I can't stand Americans who spend their time talking about food.
HOPES FOR ATG by 2026:
God only knows what life will be like in six years. Will we still be socially isolating? That might mean we could have an audience of six to eight people. Perish the thought. I am much more optimistic than that. The ATG community is an extremely creative one and even when the likes of James Lamb, a bit like myself, moves stage left, someone always fills those shoes and I look forward to seeing new talent come centre stage with new ideas, new techniques and a renewed dedication. I hope that they continue and develop the tradition of song, dance, laughter and the spoken word. Step forward New Faces