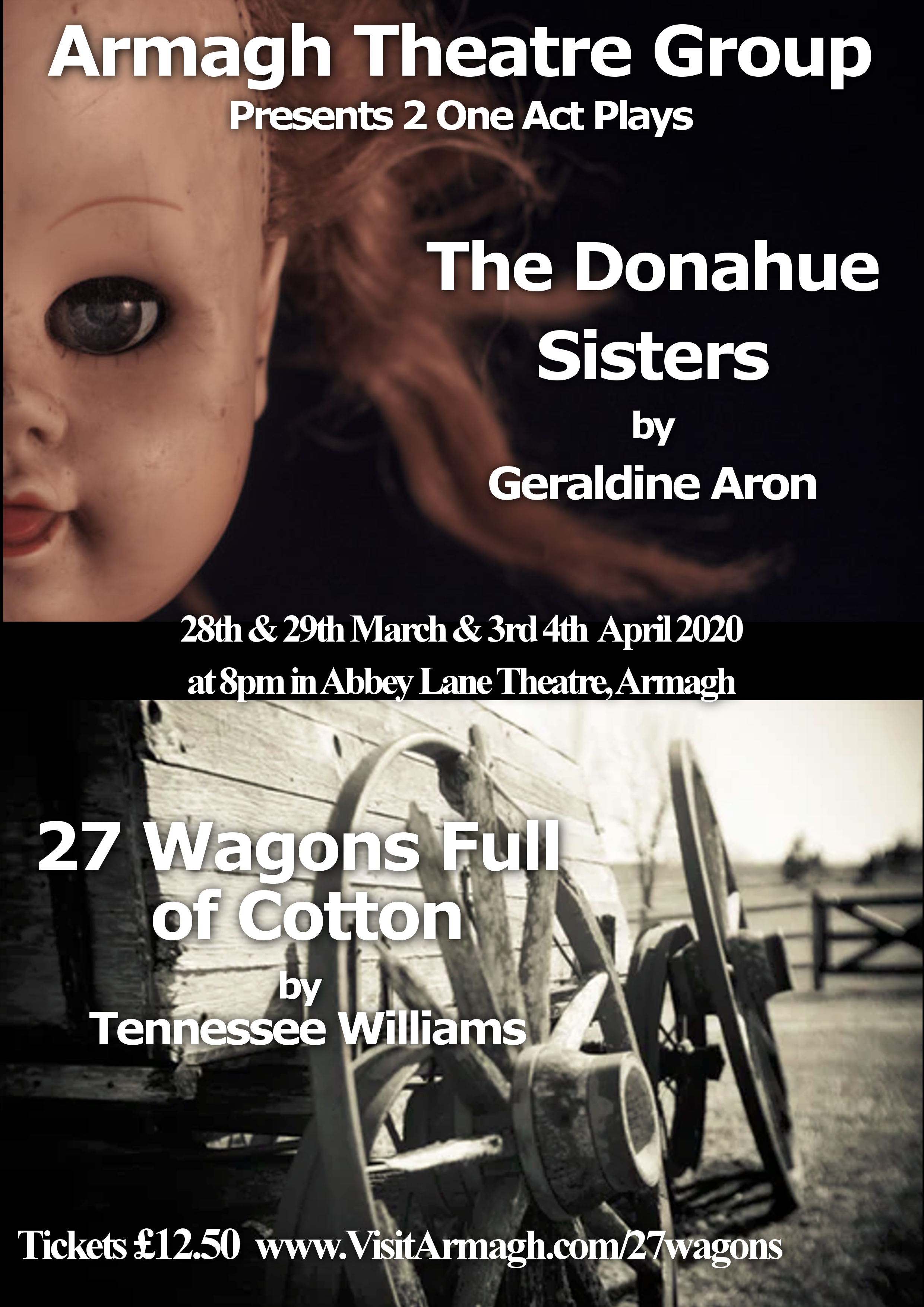 .
Armagh Theatre Group
Stage Two Powerful One Acts
in Abbey Lane Theatre.
Armagh Theatre Group's Spring production is a double header of One Act plays, brought to its own Abbey Lane Theatre in Armagh over two weekends, on Saturday 28th & Sunday 29th March and Friday 3rd & Saturday 4th April 2020 at 8pm.
27 Wagons Full of Cotton by Tennessee Williams, and produced by Felim Rafferty, is a robust and red blooded piece written by Williams in the 1940's and ingrained with his characteristic concern for life's loners and misfits. Jake Meighan (John Paul Coyle) the owner of an unprosperous cotton gin in the depths of Mississippi and his wife Flora (Bridie Heaney) confront the realities of survival when faced with difficult choices posed by the manipulative and ruthless neighbouring mill owner Silva Vicarro (David O'Toole).
The Donahue Sisters by Geraldine Aron is produced by Hilary Good. Three sharp tongued Irish sisters, Dunya (Marie Claire Guy) Rosie (Lois Bennett) and Annie (Diane Gowing) are reunited in the loft playroom of their childhood. As the siblings shed their inhibitions they cast stones at their own, and each other's, failed lives and loves and reveal their very own dark secret from the past. The fast paced and acerbic script will both entertain and shock in equal measure.
Don't miss this great night's entertainment in Armagh's little gem of a theatre.
Tickets are £12.50 (including glass of wine) and are available online at www.visitarmagh.com/27wagons or in person at The Tourist information, English Street, Armagh Tel 028 37521800.