Market Place Theatre Armagh 23-25 Jan 2014 'LOOT' by Joe Orton
Described as a "tour de force of bad taste" and widely considered both "amoral and bizarre", this masterpiece of black farce follows the fortunes of two young lads, Dennis and Hal, who hijack Hal's mother's coffin to stash the loot from a recent heist.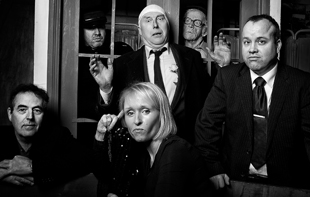 The plot thickens as her body keeps turning up around the house, the unscrupulous police Inspector Truscott arrives on the scene sowing confusion around him, whilst nurse Fay works her dubious charms on Hal's dad.
In a short but prolific career Joe Orton shocked, outraged and amused audiences with his scandalous award winning black comedy which surprisingly, is as relevant today, as in the "swinging sixties". Loot is a rollercoaster of manic proportions, gobsmackingly funny, with an antiauthoritarian message which grows more timely by the minute.
Cast
| | |
| --- | --- |
| MCLEAVY | MALACHI KELLY |
| FAY | MARIE-CLAIRE GUY |
| HAL | GARETH DUFFY |
| DENNIS | TIM HANNA |
| TRUSCOTT | MALCOLM DAWSON |
| MEADOWS | EDDIE MCCANN |
The Creative Team
| | |
| --- | --- |
| PRODUCER | FELIM RAFFERTY |
| LIGHTING | JACKIE MURPHY |
| PROPS | HILARY GOOD |
| SET DESIGN & CONSTRUCTION | PETER KELLY, KEVIN MCENEANY |
| PROMPT | MADELEINE KELLY |
| STAGE MANAGER | SANDRA ARMSTRONG |
| PHOTOGRAPHY & PROGRAMME | CONNELL McBRIDE |