Well we got this decade's Open Mic's of to a brilliant start. A full house for Liz Weir's first visit to Abbey Lane and Armagh Theatre Group coincided with first visits by fellow storyteller Joseph Heywood; Thomas Mallon musician /singer; and 'Pat the Novice' yarns of dying priest and philosophy.
The night started with a communal tongue-in-cheek singalong to acknowledge the exit of Britain from EU influence from 11pm that night. We quickly moved on and introduced Liz Weir as our special guest for January. A consummate professional, Liz had the audience on her side straight away and regailed us with wonderful stories of Marriage and hard drinking witches in London and Romance between Fermanagh's kingdom and English aristocrats.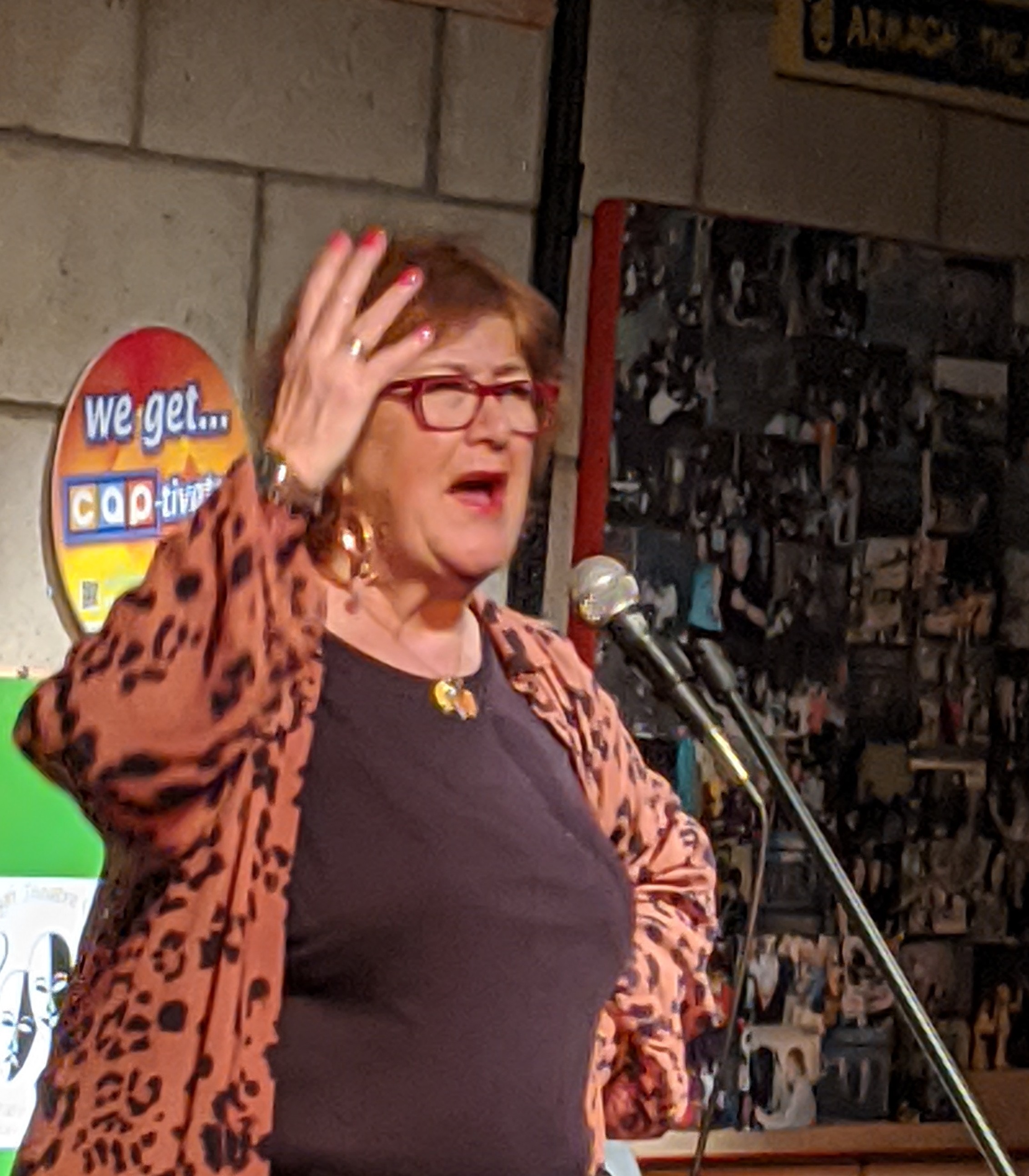 The Open Mic started with the talented Sophie Ross from Keady with an orginal song written by her that day. Not titled before performing the crowd when asked afterwards favoured 'Sometimes' ...brilliant singer who should go far. Next up Mark Brownlee ;poems inspired from songs, Jimmy Rafferty; 'Barred of Armagh' which mentioned 40yrs of recent local history, Thomas Healy on tin whistle and Cornet (but not at the same time); Laurane sang Bonnie Banks of Loch Lomond beautifully, Joe McCool with a passing joke;Joseph Heywood's story The Coyote and the stars;Theo Sinton from Magherlin, on guitar singing Murl Haggard's 'Today I started loving you again' and wise words in 'Faster horse, younger women,older whiskey, more money' ;Malachi with his 'Fund me a lift' poetic plea for MOT. Thomas Mallon from Keady singing/guitar cover Lion's roar (First Aid Kit) class act; 'Pat the Novice' from Crossmaglen,the dying priest story; At this point Liz was up again with Valentine story, Robbie Burns and her Witches story. Dymphna quickly brought the night back from its heights with her inimitable humour, Tim went shopping with his poem; Damien Mallon sang Nell Flattery's drake;Sophie was back by popular demand and sang 'Rocky Racoon' to rapturous appluse. and our night ended with a poem from Rachel Toner on relationships. A wonderful night which also incuded Mick Mc Connell's AldiLidi song.
Thanks to Liz Weir and Joseph coming all the way from Cushendall and to all who performed. Thanks to Allan on sound/lights and projections; to the ladies at the door,serving drinks and cleaning up and to Tim for keeping them under control. But mostly to our wonderful supporters who make the evening what it is...the BEST Open Mic in Armagh.