A rousing set from the wonderful 'Woodbees' got us all singing along at this month's Open Mic after an international flavour from our contributors. Poland, France and England were all represented along with nearer to home Crossgar, Dungannon and the darker reaches of Umgola.
MC on the night Rachel Toner called for contributions from poet John Henderson with his memories of home town Liverpool. Matthew Toner's short poem 'Over thinking'. CoDown's Joseph Conlon's yarn 'Time for Kindness' and poem 'Teachers'. Up next was Mark Brownlee with an excerpt from his forthcomming novelette themed on mental health ( www.bluemanic.com). This piece, chatting up a French student you fancy when your French is far from fancy .
The eagerly awaited return of Dymphna Ferran, after her lay-up last month, was enthusiastically applauded and she didn't disappoint. Yarns about 'Murphy' , Nuns and asses and doubledecker buses kept us all in laughter.
Malachi Kelly acknowledged the 10th anniversay of Seamus Heaney's passing with the bard's ' The Conway Stewart' and his own poems 'He has matured' and 'Armagh and Don't forget me Da'.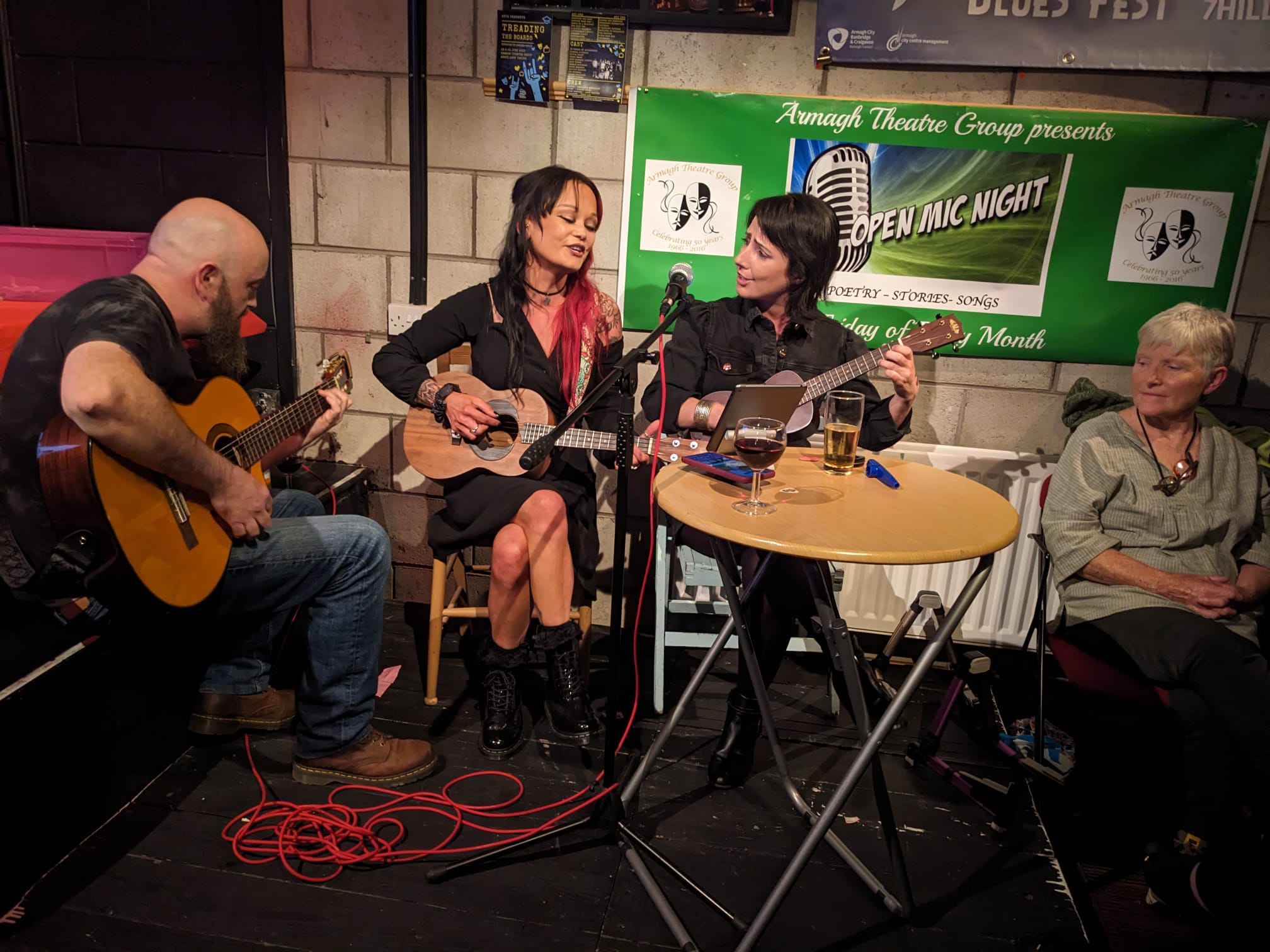 We broke for the much anticipated raffle with some unbelievable prizes being snapped up by the lucky punters. Then our first Polish contributor swept to the stage. Agata Banc who sang, for the first time in public, a traditional Polish song ' Hey Teksanski' and another star emerges from Abbey Lane.
Hard to follow Agata but our guest artists 'The Woodbees' entertain us with golden oldies and sing-a-long tunes for the next few slots Pauline McDonald, Elma McEneaney ( vocals and Ukeleles) and 'Rocky' (guitar).
Dymphna returned and her poem about her own mother passing with dementia was very moving. Malachi's piece on the Art of Conversation and then 'The Woodbee's were enticed back to finish the night with their newly found lead singer Agata who's powerful voice belied her previous shyness.
All in all another great wee night in Abbey Lane. Thanks go to all the audience who came, contributors and guests 'The Woodbees', ticket collectors, and members who 'cleared the stage' for the next rehearsals of 'Impact' coming to MPT in November. Last but not least Rachel Toner for her exquisite Master of Ceremonies talents.
Remember Flash Fiction Armagh on in the Long Meadow Cider brewery 7th Sept as part of the Armagh Food and Cider Festival . Tickets https://armagh-navancentre.ticketsolve.com/ticketbooth/shows/873634928
Next Open Mic is on 29th September where we continue to give voice to talented poets, writers, musicians, and singers in the homely atmosphere of Abbey Lane Theatre.