ARMAGH THEATRE GROUP QUESTIONNAIRE 2020
NAME; Madeleine Kelly
JOB/CARRER; Retired Civil Servant
ATG MEMBER SINCE; 1966

WHY DID YOU JOIN ;
After an unsuccessful course at University, I was living and working at home and most of my friends had moved on. Armagh Theatre Group had just had a very successful production of Our Town so I decided to join in order to meet new people (men) and have something different in my life.
1st PRODUCTION; The Crucible
1st PRODUCER/DIRECTOR; Larry Ryan
FAVOURITE THEATRE TO PERFORM IN:
Abbey Lane Theatre Armagh has great atmosphere and challenges. Plays are always great fun to participate in with the audience almost on the stage with the actors.
FAVOURITE PART IN A PLAY;
It is hard to decide this as every part presents its own challenge. As I have already said The Crucible was the first play in which I participated and I really thought it was wonderful. I still do, and I have seen several productions of it, the most recent being on Broadway New York. It still made the hairs stand on the back of my neck even after all these years.
BIGGEST STAGE ACHIVEMENT;
Performing in Adam's Children, which was a dance drama, with two broken bones in my left foot. The plaster on my leg was removed in the dressing room, I was given a local anaesthetic and the foot was strapped up and away we went.
LIKES/DISLIKES
CHOCOLATE or CAKES; Yes please
MEAT OR VEG; Yes please
FRUIT or FRY; All the time
ENTERTAIN or be ENTERTAINED; Enjoy both
MOST EMBARRISING STAGE MOMENT;
I forgot to put out a bottle of whiskey for Bridie when we were staging A Streetcar Named Desire. How she continued I will never know. Anyone else would have left the stage, but Bridie is such a trouper she managed. Once again many apologies Bridie.
FAVOURITE PLAYWRIGHT or AUTHOR; Arthur Miller/ Sebastian Barry
BEDSIDE BOOK; Girl, Woman, Other by Bernardine Evaristo
FAVOURITE MUSIC; Abbey Road by the Beatles
BEST HOLIDAY DESTINATION; I love Italy, but Donegal comes a very close second.
YOUR PARTY PIECE; Still trying to find one
MANTRA- RULES of LIFE; Still trying to find them as well.
Book/Play/Film RECOMMENDATION;
Sebastian Barry's Steward of Christendom was one of the best plays I have ever seen.
EXERCISE CHOICE; Walking doesn't cost anything, can be as long or as short as you want, and can be done anywhere.
FAVOURITE FOOD; Bread and Butter
HOPES FOR ATG by 2026: That it will still be here full of new and enthusiastic members, with some of us old fogies still around to enjoy it!!!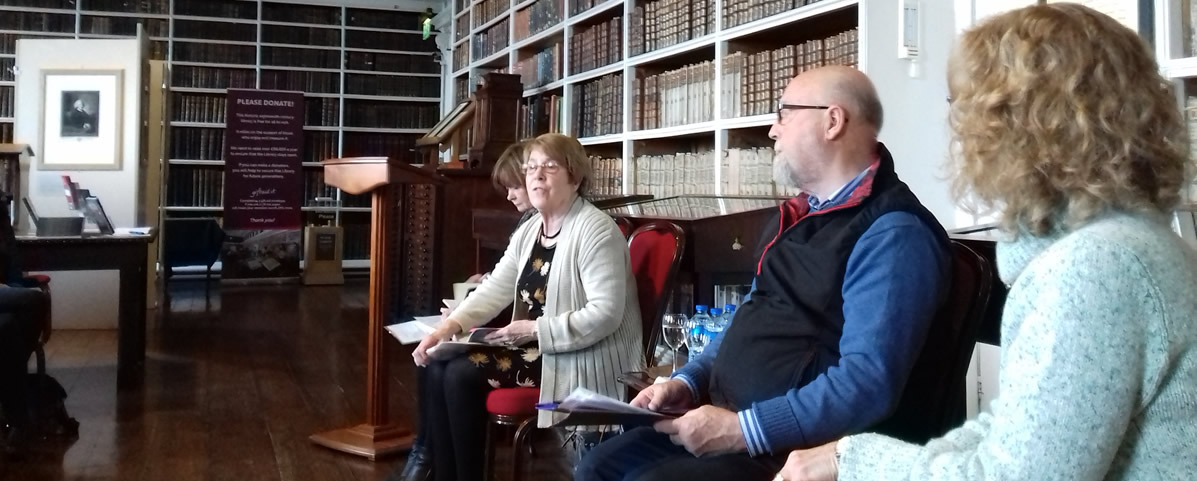 Robinson Library, Armagh, Georgian Day 2016 Madeleine reading from the Bronte sisters