This is the first of a series of reflections from the members of ATG. An insight into those who have made the Group an enduring and endearing part of Armagh society for more than 50 years.
Armagh Theatre Group Feature Questionnaire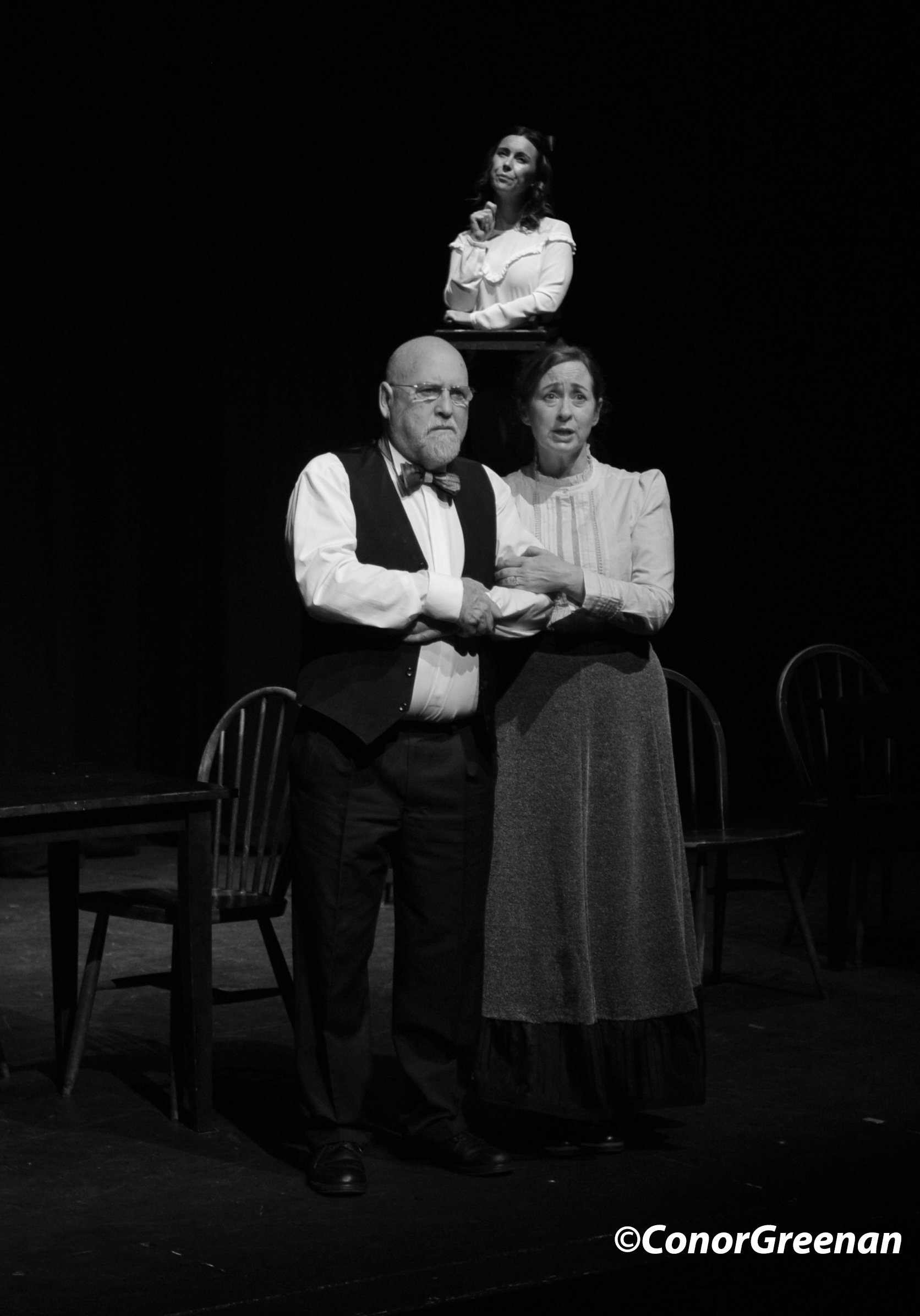 Bridie in a scene from 'OUR TOWN' in the grip of her 'Husband' Peter Kelly with Monique Rennie hoovering!

NAME AND OCCUPATION?

Bride Heaney, Primary School Teacher, 9-11 Year olds.

MEMBER OF ATG FOR HOW LONG?
I joined Armagh Theatre Group quite soon after I was married in 1988 and I stress there was no correlation there. My husband, Colin, worked with someone who knew Margery Quinn and I went along to a meeting in the Charlemont Hotel; that was it, I was in.
WHY DID YOU JOIN?
I had always enjoyed Speech/Drama from when I was a child. My speech teacher, Mrs Molly Mc Nally, Portadown, gave me a real love of the spoken word and I had been involved in school plays over the years so I wanted to continue that.
WHAT WAS YOUR FIRST PRODUCTION?
Honestly, I don't recall the name of the play but it was a Victorian melodrama; I played the part of a servant girl, I carried a tray and I had two short lines to deliver I believe. I do remember a more established actor in it who would get ready to go on stage by sticking his chewing gum on the wooden steps backstage and pick the gum back up again when he'd finished…gross!!
YOUR FIRST DIRECTOR?
Again, I don't remember clearly so obviously they didn't make a great impression….let me think…oh it has to be Malachi Kelly then.
YOUR FAVOURITE THEATRE TO PERFORM IN?
Well, even though I've been lucky to have acted in quite a variety of theatres like The Marketplace, The Craic, The Lyric etc…my favourite theatre will always be our own Abbey Lane Theatre in Armagh where you can hear and feel the audience breathe, almost touching the front row, the best audiences ever. Mind you, can't wait for the promised extension which promises a WC for the actors backstage.
WHAT HAS BEEN YOUR FAVOURITE PLAY AND PART?
No no I refuse to choose! I've been so lucky to have played a variety of parts from funny to tragic and everything in between, don't make me choose! I don't care if it sounds corny but, when I've played a part, I always feel like I've met someone new and got to know them well, so I've loved every one of my characters…HOWEVER, anyone who knows me will not be surprised to hear that I especially enjoy a character with a tragic story to tell (tears are a must) so Blanche Du Bois from 'Streetcar Named Desire' directed by Margaret Marjoram, was a pleasure. She is only topped by Mai from 'Our Lady of Sligo', directed by our own Kevin Mc Eneaney – thanks Kevin! Mind you, I wasn't thanking him for the six monologues I had to learn at the time!
WHAT WAS YOUR MOST EMBARRASSING STAGE MOMENT?
Mmmm that's a difficult one, so many to choose from…like during 'Our Town' brilliantly directed by Margery Quinn, when I'm onstage miming my heart out at cooking the dinner and my stage husband doesn't turn up for what seemed like ten minutes! Oh yes, all I can hear in the wings is, "Where the ….is Peter???". Now he did turn up as cool as you like and by that stage I had cooked enough to feed the village, brilliant!
Also, once during ATG's famous Pantomime years, I played Jack of Beanstalk fame and had to take a scroll from the panto horse's neck to read out a message. When I unrolled the scroll I was faced with a horse's head on a swimsuit model's body (minus the swimsuit) and the front and back of the horse was giggling like mad! Thanks lads!! Luckily I'd learned my lines.
YOUR FAVOURITE PLAYWRIGHT/AUTHOR?
I like a lot of writers but my top two are Thomas Hardy and Sebastian Barry, sooo descriptive, delicious to read. As far as poetry goes, I love Instagram's mysterious poet 'Atticus', definitely worth checking out. Also, any poet who has the courage to perform their own work at our monthly Open Mic nights in Abbey Lane – not to be missed!
BEST BEDSIDE READ?
No matter what novel or script I might be reading, I'll have 'The Power of Now' By Ekhart Tolle handy; always worth a glance to remind you to live in the moment as much as possible.
The album you'll never grow tired of?
I'm making my own albums now from Spotify, usually a mix of Motown/ disco/ funk…my favourite album forever is 'Aisling 2'.
WHAT'S YOUR PARTY PIECE?
I do NOT have a party piece! I wish I did but I content myself with singing along, especially to ATG's unofficial theme song 'Amore'.
FAVOURITE FORM OF EXERCISE?
I enjoy yoga and dancing. I love to walk, on the roads or in the mountains and even sometimes run during my walk. But the best walk always ends up in a café or restaurant with my nearest and dearest tribe, nothing beats that.
THE MANTRA YOU LIVE BY?
Two come to mind-
1. Treat others as you would like to be treated.
2. Don't be sad that it's over, just be glad that it happened.
Oh there is a number three of course-
3. LEARN YOUR LINES!