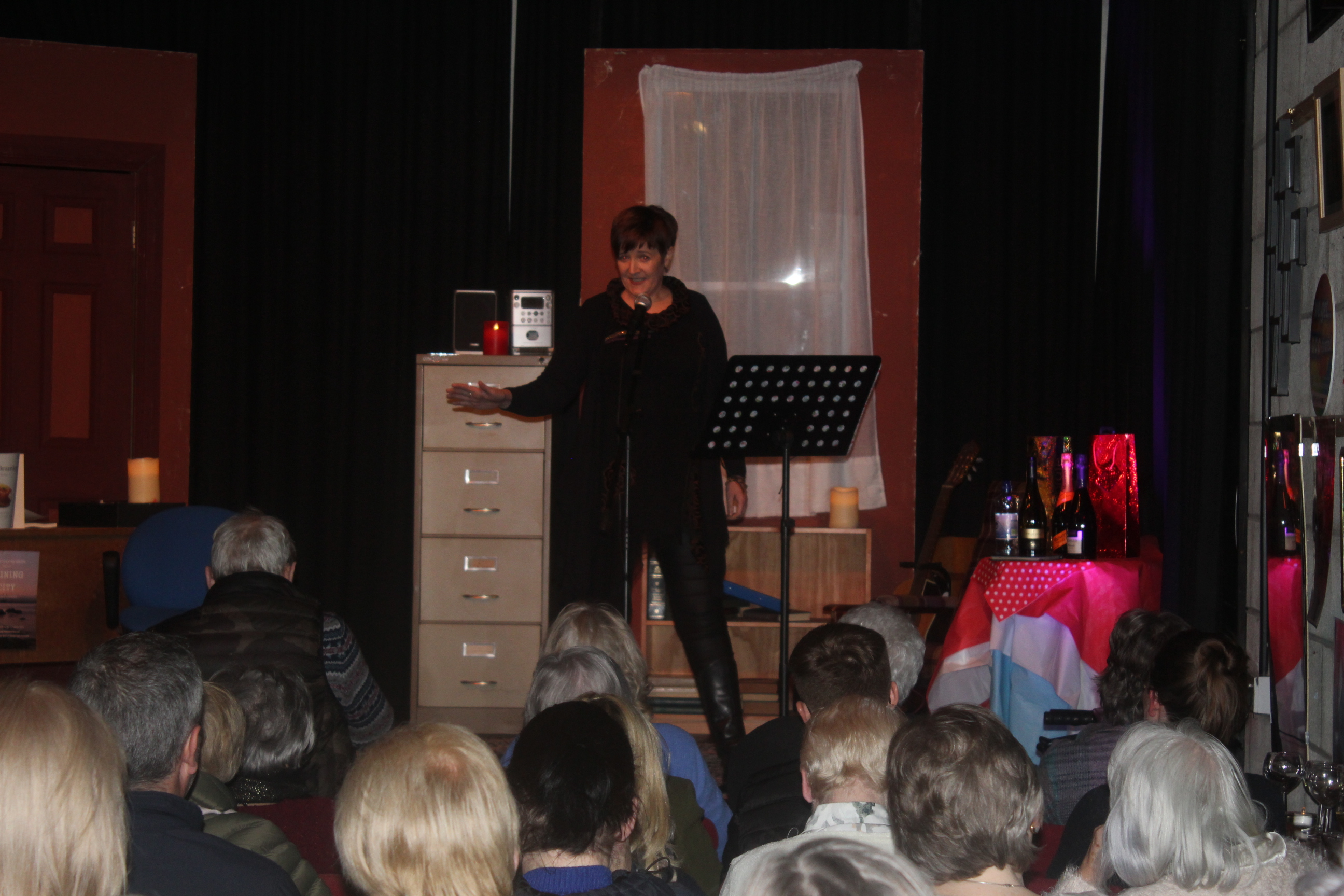 A great 'turn out' for our guest artist Trish Bennett and all our contributors made for another wonderful night in Abbey Lane.
Many thanks to Trish travelling all the way from Co.Fermanagh/Leitrim border to give Armagh a taste of her undoubted talents in the ''oul' poetry and storytelling game''. Other contributors to thank on the night Peter Kelly with his 1st anniversary tribute to Una Boylan recalling some of the pieces she performed at our 'Poem and Pints nights' of the 70' and 80's. Una is still sorely missed. Tim Hanna presented work 'Zero some game' from Byddi Lee's writing classes as did Malachi with 'Return journey'. Joe Mc Ginley poem 'Do I really need to know!' had the crowd agreeing on its sentiment that social media just gives TOO MUCH information.
Ann Gilmartin's story of the Unhappy King was listened to attentively as was Maria Mc Gilly's take on British politics and B...xit. Andrew McMurdie sang 'Mr Tambourine Man' and was encouraged to sing again with 'You are my Sunshine' too rapturous applause. His new CD will be launched in May.
Dymphna as usual brought the proceeding to new levels with her funny poem '50 shades of Grey'. Mark Brownlee poem 'Dream Man' a humurous take on the perfect partner and Michael O'Callaghan regaled us with 'She's my girl she's my world'.
The VERY popular competition 'Family and Local Sayings' was well received dispite organized hacklers demanding the return of 'Limerick Laugh's' Surprise gifts were presented on the audience's Ayes or Nays...the ayes have it!
Best sayings of the night...Braziel family input ''If you'd open your eyes as wide as your mouth...'' ''if his brains were elastic they would stretch round a sparrows knee cap'' '' it will happen when there's two moons in the sky and one in the dungel'' advice ''if you fall don't wait to get up'' and ''I'm going up the stairs to throw my head down for half an hour''...afternoon nap! NEXT OPEN MIC 26TH APRIL. See you there! Thanks to all who helped on the night and Felim for photos.