Time running out for submissions to be entered for May . Submissions will be accepted up to midnight tomorrow Fri 19th.
This month's topics for our 30/3/30 competition are;
1)HOME ...what it means to you; coming home; moving home; homelessness etc .
2) GOOD and EVIL .....life's temptations; conflicts; pressures etc .
3) 'Hello'.....start of your day; an expected visitor or phone call; meeting a stranger; greetings etc.
30 words, 3 topics, £30 to win and highly commended certificates presented . pick one or all 3 topics email
This email address is being protected from spambots. You need JavaScript enabled to view it.
and send titled in an attachment without your name ...just the poem. Winner presented at our Open Mic on 26th May. Submissions to be in by Friday midnight 19th May.
Highly commended for April was LtoR Dymphna Ferran and Ellen McKenna with April's winner of our competition John McAdrew who penned the following three to lift the £30 prize Presentation by Byddi Lee MC.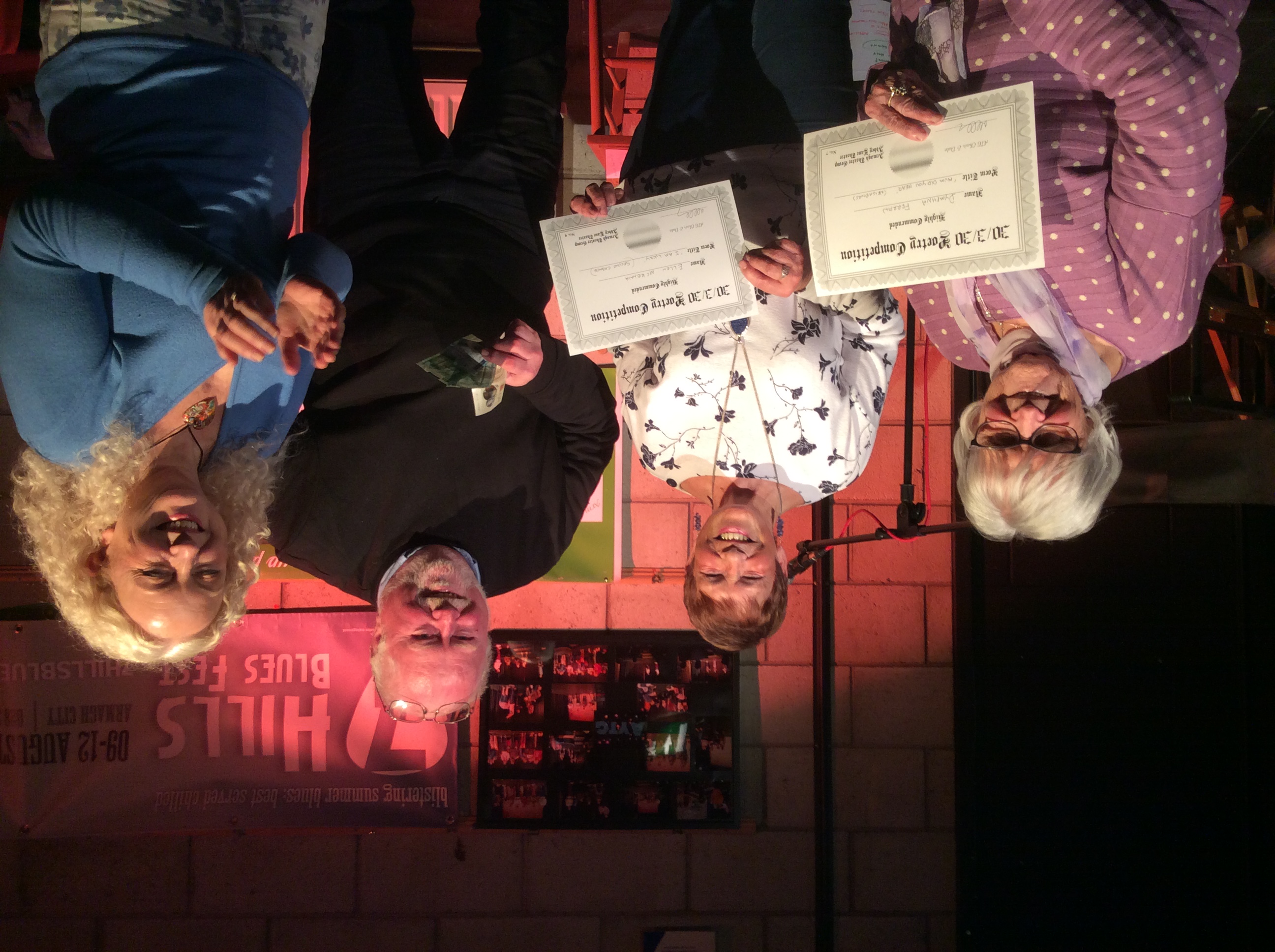 INSTINCTS by John McAndrew
I have two ,
killer and creative.
I must follow one but not the other,
However tempting to kill my brother,
I shall, instead, continue to murder
my mother tongue.
SECOND CHANCES by John McAndrew
In life, love, work, and play
nobody gets a second chance
where first impressions count.
But when that quota's filled,
they look below the surface
older, better informed, wiser.
NEIGHBOURS by John McAndrew
Do hermits want neighbours?
Recluses, friends?
Or citizens in solitary confinement , visitors?
If not in this life then in the next,
neighbours in Hell above, or Hell below.
***********************************************************************
NEIGHBOURS by Dymphna Ferran
Neighbours
Mum, did you hear those neighbours next door?
Screaming, yelling, and thumping the floor.
But wait, a thought has come to the fore.
I was once those neighbours next door!
************************************************************************
SECOND CHANCES by Ellen McKenna
A Second Chance
I am lucky to have a second chance.
As a cancer survivor I seize each day,
Try new adventures, push boundaries,
Appreciate the world around me,
And I am thankful.
Well done to all our entrants in April. Each of you made it a very hard decision to pick a 1,2,3, and no reflection on your writing as we all know its the participation and not the number.
Thank you all , Armagh Theatre Group.